This cake is a twist on my flourless chocolate brownie recipe that never fails to be the hit of every party.
The secret ingredient in this cake is… Avocado!
Why avocado? Avocados are …
Healthy fats.
Rich in fiber.
A good source of potassium, vitamin A, vitamin K, folate, vitamin C, B vitamins, vitamin E, magnesium, copper, iron, and zinc.
And because they add richness and creaminess to recipes, yes even cake!
It deserves mentioning that nothing about this cake ends up tasting like avocado.
Let's do this.
Ingredients:
1 1/4 cups dark chocolate/semi sweet chocolate chips (the darker the better)

1/2 cup grass fed butter

1 ripe avocado

4 whole eggs (for egg substitute options click here)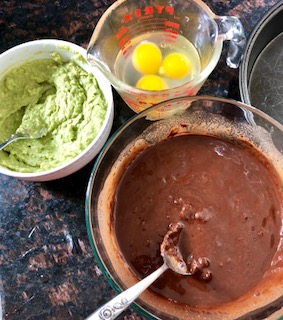 Whole, real food ingredients
Instructions:
Melt the butter and chocolate together (about 2-3 minutes in the microwave), stir until well blended and smooth

Beat eggs and add to butter and chocolate mixture

Stir until well blended and smooth

Mash avocado and add to mixture, stir until well blended and smooth

Pour mixture into a greased baking pan or muffin tin. You can grease with butter or oil. I typically use avocado oil, but coconut oil or butter works well too.

Bake at 350 degrees for 25-30 minutes. It's done when you stick a knife in the center and it comes out clean.

Let cool and serve
Enjoy!
Jennifer Brand, MPH, MS, CNS is a clinical nutritionist specializing in childhood skin rashes like eczema, food allergies and sensitivities, and gut problems. Jennifer helps her clients resolve imbalances, nourish their bodies, restore their health, and beat chronic symptoms and health problems.